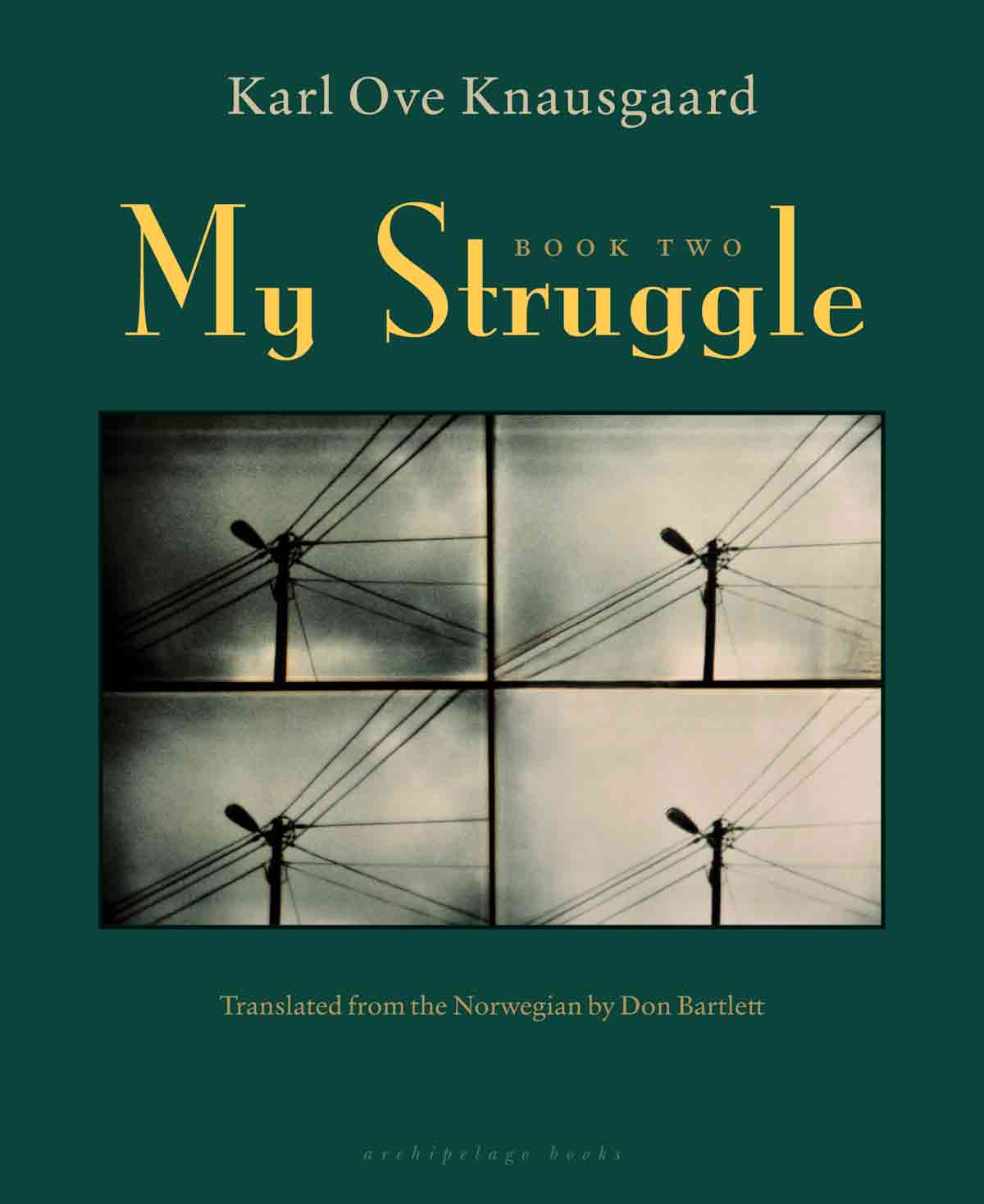 Book Two of Norwegian writer Karl Ove Knausgaard's six-volume memoir, A Man in Love, is a bit of a puzzle. First, there is the controversy of the title. Publishers around the world have tried to find clever ways to deal with the negative associations with Mein Kampf. (The original Norwegian title is Min Kamp.)
Then, there is the question of exactly what has made the series so commercially successful in Europe. While the book seems to go on forever, and very little happens, it is nonetheless compelling.  One is drawn into the everyday rhythms of the life of this man who wants so desperately to write,  whose relationships, even when at their best, are a hindrance to the fulfillment of that desire.
Knausgaard, who says he desired to be liked since the age of seven, is often unlikable. Immediately after the birth of his first child, he disappears for two weeks to write, leaving his long suffering partner, Linda, home alone with their newborn. Later, Linda goes back to school while Knausgaard stays home with the child. Many pages are devoted to the misery of child care. He finds the situation unfair primarily because he is not a mother, but a father. For Knausgaard, the domestic duties are emasculating, symptomatic of a larger crisis in Scandinavian culture–progressive ideals that turn men into house husbands and cast a dull, polite patina over what should be politically charged conversations.
Nonetheless, his vulnerabilities are such that, at times, one finds oneself empathizing. He clearly loves his children, and there are passages in which his tenderness toward them is heartbreaking. He suffers from a burning desire to please everyone. What makes Knausgaard insufferable is also what makes the book itself compelling. You struggle through the self-absorption because there is there is so much very good and thoughtful writing here. Knausgaard writes powerfully about the desperate desire to carve out time to write, an all-consuming desire that anyone struggling to balance parenthood and writing will find familiar. All of us who juggle writing with family know the wrenching feeling of being tied to people and events and everyday activities, when all you want in the world is to be alone in a room with some books and a laptop.
At one point, when he has to give a lecture about his own work, he sits at a cafe waiting for the appointed time, considering what he will say to this roomful of eager listeners:
I was supposed to talk about the two books I had written. I couldn't do that, so it would have to be about how the books came into being, those years of nothing until something definite began to take shape, how it slowly but surely took over, in such a way that in the end everything came by itself.
Such beauty is everywhere in this book, which is by turns graceful and maddening, wise and self-serving.
Since the publication of the first book in the series, Knausgaard has sold half a million books in Norway. In the U.S., half a million is a respectable showing (for a single book, not necessarily for multiples), but in Norway, that number means you've reached one in ten of the population, an unheard of feat. The series has also been a success in Europe and is garnering a good deal of attention from reviewers in the U.S.  It appears that literature has found its new golden boy, and, in keeping with the archetypal literary golden boy, Knausgaard complains frequently in this book that he hates the attention. The accolades sicken him,  the journalists and photographers who want to capture something of his spirit for an admiring audience are objects of ridicule.
The complaint does not feel quite genuine. The internet is swarming with images of Knausgaard gazing soulfully into the camera, or looking off into the distance with a cigarette in hand. It's not that he is different from other writers in this respect; Knausgaard's friend Geir admits that everything that Knausgaard has is exactly what Geir wants and can't achieve. Having taken a page from the Jonathan Franzen playbook, Knausgaard doth protest too much. It's fine to enjoy the fame. It's hypocritical to wallow in it while pretending to despise it.
Ah, but the book. The book itself is very good, easy to put down at moments but easy to come back to. Or, perhaps I should say it calls you back. During the period that I was reading it, I kept remembering that it was there, in the other room, that I only need go in there and shut the door and I would be immersed in it again. I wanted to be immersed in it. The book itself has something. It is truly a joy to read. The endless minutia of the writer's days has a kind of raw intensity. One might be tempted to say "honesty," but, upon closer inspection, that doesn't seem to be the case. The book is orchestrated, like all memoirs, to give a certain view of the speaker. Accuracy isn't the point, perhaps. Knausgaard is a very good writer, and that is why one is so easily drawn into the book.
Incidentally, one has to question whether the exact same book by a woman would be considered high art at all, or merely another domestic memoir filled with nappies, love affairs, friends, and food porn. Knausgaard is very good at food porn. The way that My Struggle has been received seems symptomatic of the larger issue in the literary landscape: men can write about anything and be praised for creating serious art (Knausgaard's previous book was about angels), while women who tackle the same themes, with equal talent and scope, are marginalized as "women writers" working in the realm of "domestic" fiction or memoir. This disparity has nothing to do with the quality of Knausgaard's work, which speaks for itself, but rather with the lingering assumption among critics that women who write about certain subjects are not deserving of serious consideration, while men are.
Archipelago Books, May 2013
ISBN-13: 978-1935744825
Buy from Indiebound   Buy from Amazon   Buy from Barnes & Noble
Reviewed by Michelle Richmond