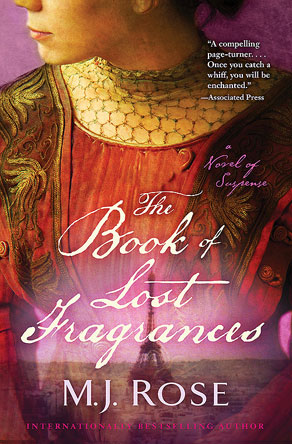 M.J. Rose has cemented her reputation as one of our leading writers of suspense, fusing thriller elements with history and a fascination with how the past can affect and alter the present. While reincarnation themes dominate her most recent books, including the brilliant THE HYPNOTIST, you don't have to be a believer to sink into her carefully constructed ambiance, often populated by damaged yet hopeful characters seeking redemption in a chaotic and dangerous world.
In THE BOOK OF LOST FRAGRANCES, Rose introduces a new character, Jac L'Etoile -a young woman haunted by her past and the ethereal scents that filled her childhood as heir to the French perfume company, House of L'Etoile. Jac's youth is marred by the pain of her mother's untimely death and a difficult relationship with her family, but after fourteen years of living abroad in the United States, her attempts to flee the past catch up with her when she and her talented brother Robbie inherit the family business. The inheritance is rife with trouble; plagued by financial trouble in a relentless corporation-driven era that is destroying the art of natural perfume making in favor of mass production, the once legendary House of L'Etoile is on the brink of ruin. But when Jac's brother stumbles upon a potentially life-changing secret in the family archives and soon thereafter disappears under frightening circumstances, Jac finds herself thrust into a desperate gambit to find her brother, unravel the mystery of the legendary fragrance of Cleopatra – a possible tool to restore past-life memories – and find a way to confront, and make peace, with her shattered past.
Ms Rose excels, as always, at depicting her troubled heroine's journey as Jac navigates the glamorous boulevards of the City of Lights and the lethal underworld of reincarnation tools and those who will stop at nothing to obtain them. Rose also populates her fast-moving, breathtaking narrative with a host of memorable secondary characters, including assassins and a shadowy figure that her fans will recognize from past books. But it is her meticulous attention to the evanescent, fascinating world of perfume that sets this novel apart. At moments, the very pages of THE BOOK OF LOST FRAGRANCES emanate the ambergris and musk of ancient Egypt, so that you find yourself sniffing your fingers for traces of the elusive, lost perfume. In Jac, Rose has also developed her best heroine yet: a woman whose outward fragility conceals an inner courage that propels her into the terrifying catacombs of Paris on a quest that will re-define her belief in, and powers to, retrieve the past, even as these exact heart-breaking sacrifice.
Readers of historical fiction, suspense and mystery should flock to this captivating and unusual novel.
Atria Books, Paperback release-Feb. 2013,  ISBN 9781451621488
C.W. Gortner is the bestselling author of four historical novels, including his most recent, THE QUEEN'S VOW. Visit him at www.cwgortner.com