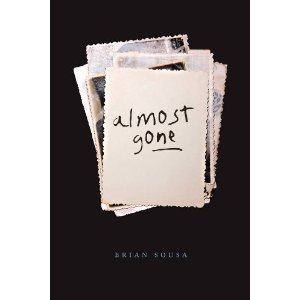 Brian Sousa's debut book, Almost Gone, is a collection of intricately linked stories spanning four generations of Portuguese Americans. In the opening story, a young man named Scott has gone to Brazil, attempting to escape his marriage and his grief over the loss of a child. Over the course of the stories, we hear from Paulo, Scott's father, and from Paulo's father, Nuno, Nuno's wife Helena, and, in a surprising turn, Helena's first love, Mateo. Grounding many of the stories is Catarina, an enigmatic young woman who arrives in America without any English, and takes up residence in a small house next door to Helena and Nuno. There, she becomes the object of desire not only of the married Paulo, but also of his aging father Nuno, who watches her daily through the blinds. Nuno's longing for the much younger Catarina is one of the many manifestations of solitude and unrequited love in this moving, tenderly orchestrated book.
If you put this collection down and come back to it, it's easy to forget how all of the stories intersect, but one should resist the urge to flip back and forth, trying to tie everything together. That's because it all does come together in the end, beautifully, and part of the pleasure of reading Almost Gone is the flash of recognition one feels throughout. You feel entirely immersed in a bullfight in Spain, which seems to have nothing to do with the rest of the book, only to come to realize how this event leads to others. Time feels compressed within each story, but the time of the book as a whole is expanisve despite the relative brevity of the collection (the book weighs in at well under 200 pages). In the final story, we return to the beach with Scott, to the pivotal event that has led him to flee his wife and his life back in the U.S. The story is painful in its distillation of emotion, and, like the best of these stories, hovers between suggestion and straight narrative, leaving the reader with a feeling of uncertainty.
In the style of Peter Orner's accomplished Esther Stories, Sousa manages to make almost every story a stand-alone piece, while constructing a whole that feels, in the end, like an exquisitely rendered novel.
Tagus, Feb. 2013  ISBN-13: 978-1933227450
Reviewed by Michelle Richmond, New York Times bestselling author of The Year of Fog